History focus : Mathieu Criaerd & Madame de Mailly
2 April 2015
« On the first floor, immediately above the chamber where the king sleeps, is the chamber occupied by Madame de Mailly, which is called the Blue Room, because His Majesty had had the silk that Madame de Mailly had spun and given to the king made into a blue and white moiré bed, with hangings and chairs to match and the whole chamber up to the cornice was pointed blue and white to go with his furniture. »
(Memoirs of the Duc de Luynes)
It was the famous furniture merchant, Thomas Joachim Hébert which was in charge to get some beautiful furniture to Madame de Mailly. He delivered to Choisy in October 1742, this unique set by Mathieu Criaerd in blue and white vernis Martin.
Somme might regret the tripartite division of the front, when this technique would have allowed the decoration to be extended across the entire façade. But we must not forget that it was made when Rococo was at its height and lively frames and series of motifs were particulary appreciated. The artis was thus able to establish a hierarchy in his composition : the centre, which naturally draws the eye, is adorned with cranes at the water's edge, on the left and right are simple thickets ; as at Champs-sur-Marne, only flying birds enliven the composition of this unique commode.
The Chest of drawers that was before the war in the Rothschild's hotel of the rue Saint-Florentin to Paris disappeared.
Below, there is the blue room's furniture made by Mathieu Criaerd: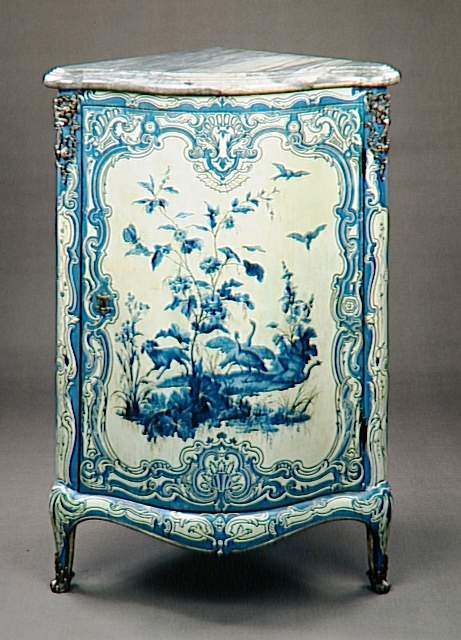 Mathieu Criaerd (1689 - 1776)
Established at rue Traversière-Saint-Antoine in Paris, the younger brother of Antoine Criaerd remains undoubtedly the most brilliant and most prolific member of this family of cabinetmakers. It is likely that he worked for Jean-François Œben because at Œben's death in 1763, he was among his creditors. It also provides the furniture merchant Hébert. After the death of his wife in 1767, he will stop his business and will transfer his workshop to his second son, Sébastien Mathieu, who will be limited to trade. We can found in the Mathieu Criaerd's achievements some chest of drawers with a lot of floral marquetry, these bronzes that put cleverly value without interfering with the deployment. It is the same for the Chinese lacquer decor or European lacquer in the Far Eastern flavor with Mathieu Criaerd makes great use. The result is several chests of drawers, some small, others larger, but all sumptuosly decorated with bronzes, which are the most characteristic aspects of his production. One of these furniture not least, dresser polychrome lacquer and gold, with the usual decor rock bronzes, part of the Crog-Carven donation to the Louvre Museum.
One of the several chests of drawers of the Crog-Carven's donation to the musuem of Louvre:
Check out our Mathieu Criaerd Chest of drawers : Click here
source : « 18e aux sources du design, éditions FATON » & « Le Mobilier français du XVIIIe siècle, PIERRE KJELLBERG, éditions de l'amateur »
Toutes les actualités